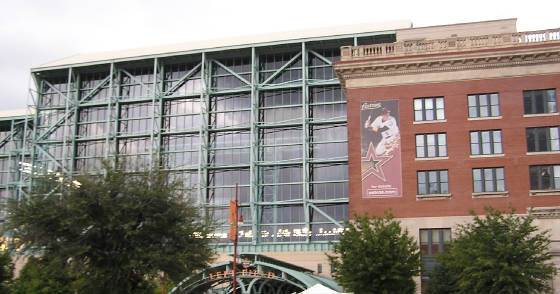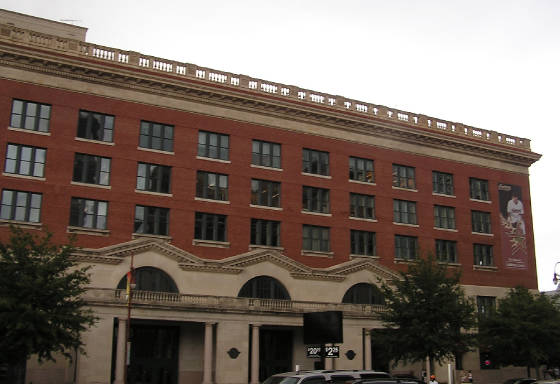 TEAM ::: HOUSTON ASTROS
LOCATION ::: HOUSTON, TEXAS
MY FIRST VISIT ::: AUGUST 27, 2008
OPPONENT ::: CINCINNATI REDS
MAJOR LEAGUE RANK ::: 30 OUT OF 40
FORMERLY KNOWN AS ::: ENRON FIELD
ASTROS FIELD
RATINGS
BALLFIELD ::: A
SCOREBOARD ::: A
FOOD ::: A-
FACILITIES ::: B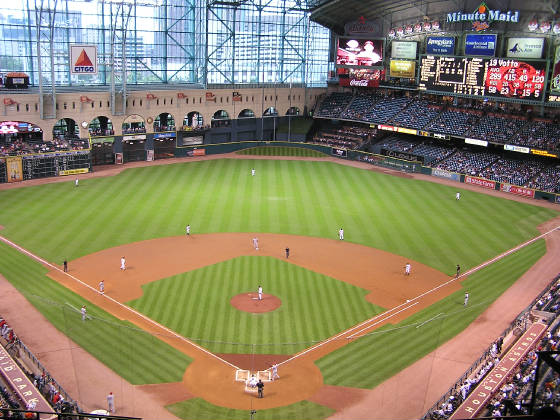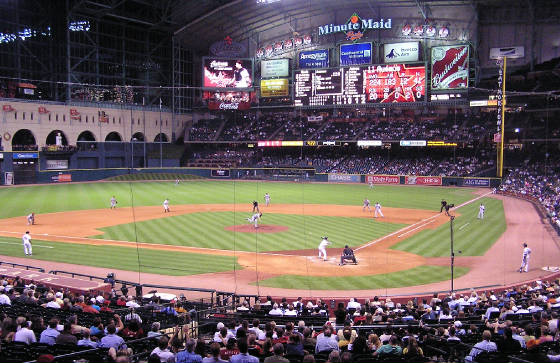 It seems every time I am going to attend a game in a domed stadium it is either raining, very cold, or snowing. On my first visit to Houston, it was clear all day but a black cloud was hovering over the city. No further Dome complaints.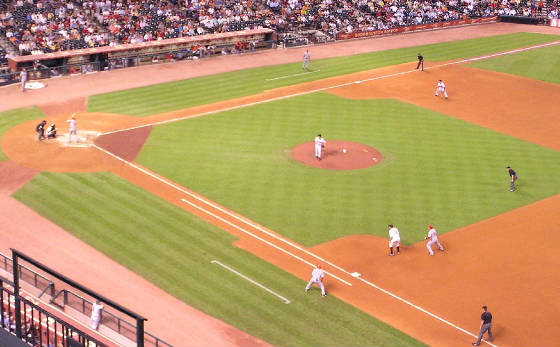 I never thought I would make a comparison of a domed ballpark to Fenway park but given the exterior I can. Neither Fenway nor Minute Maid look like a ballpark from the street. Sadly, I didn't get too many good exterior pictures due to the weather.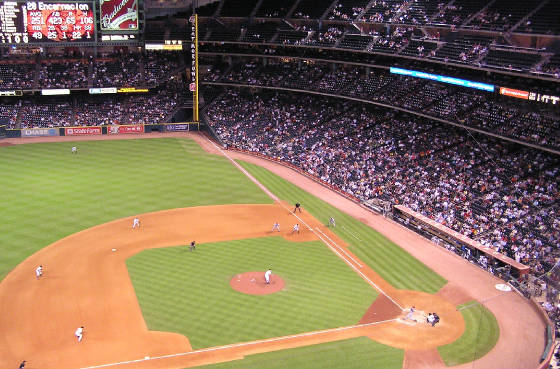 Once inside the park you only know you are inside because you are in Houston and not sweating. A large concourse with everything to eat awaits. Here in Houston, they do a pretty good job at feeding fans. Along with standard ballpark fare, a sweet shop with cupcakes and a full service Ice Cream stand await. I was particularly happy with the plate of nachos I had, a huge plate with big scoops of meat and sour cream along with a spicy salsa. A tasty treat to enjoy with the ball game.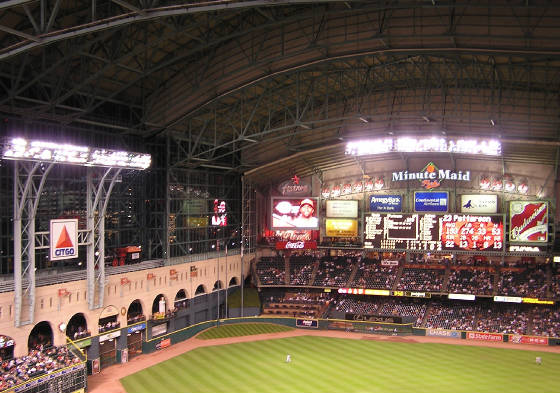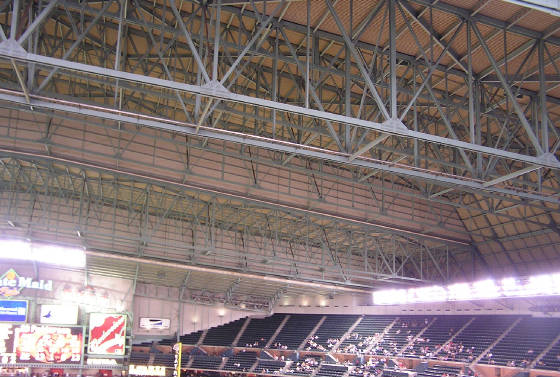 One of the greatest joys about this hobby of mine is seeing at how teams treat their history. I was very surprised to see how many retired numbers the Astros have. The Astros have retired 9 numbers, 10 if you include Jackie Robinson. Not being a fan of the Astros, I knew I couldn't name them all but I also found throughout the park various stands named for former players. I think that is great and can see why Jeff Bagwell and Craig Biggio never left Houston.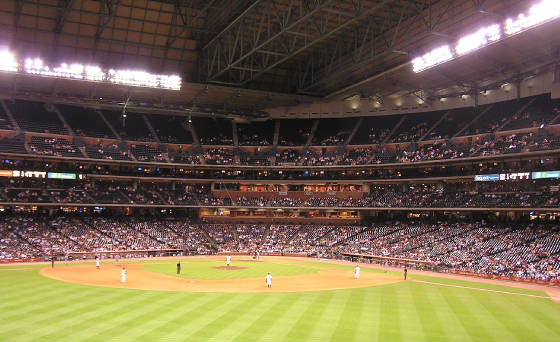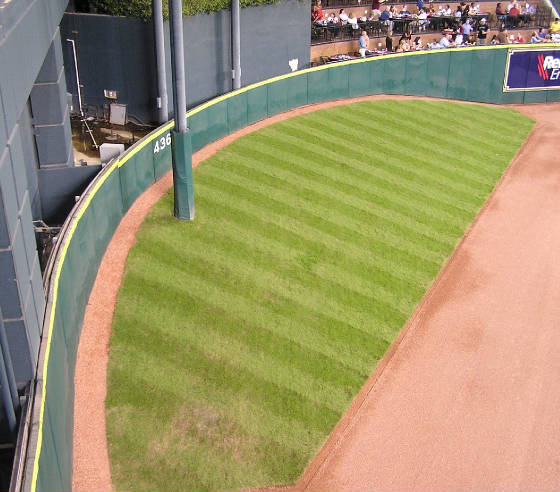 I was never at the Astrodome but was aware, I believe from the bad news Bears movie about the Astrodome's Home Run Show. When Hunter Pence hit one out in the bottom of the 4th, to my surprise, the Home Run show began on the scoreboard. It was one of those simple pleasures that I was very happy to see still happening nightly in Houston.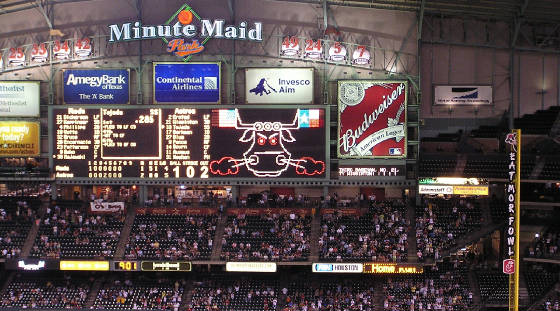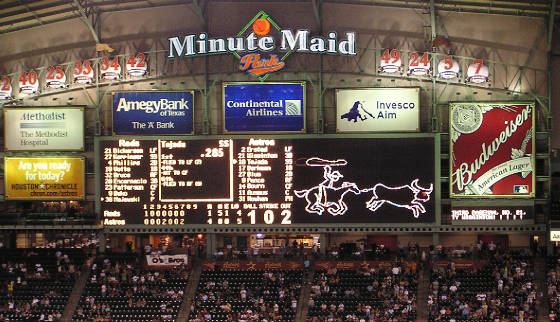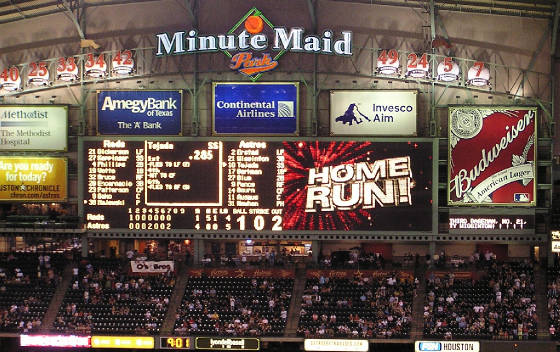 A trip to Houston may be better if the Astros are in a pennant race, it seemed on this rainy night with the team out of contention, there was little energy in the park. $ 20 was the price to park right across the street from the park, given the weather I chose this over the cheaper lots about a block away. The game is handled well here and in the 7th inning after "Take Me Out to the Ballgame" a few bars of "Deep in the Heart of Texas" are sung, remind everyone if they forgot that they are in Texas.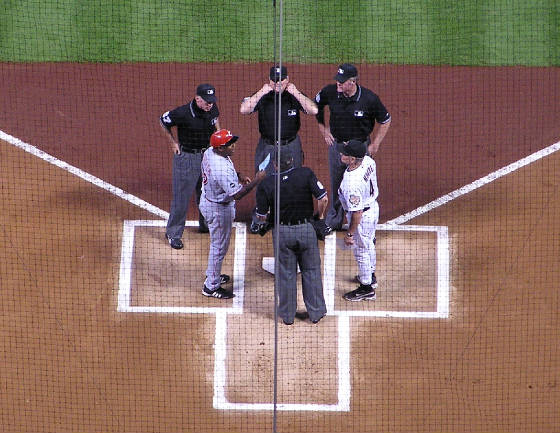 THE LINE UPS
Cincinnati Reds Manager :::
12 Dusty Baker
Houston Astros Manager :::
15 Cecil Cooper
CINCINNATI REDS
21 Chris Dickerson lf
27 Jeff Keppinger ss
4 Brandon Phillips 2b
19 Joey Votto 1b
32 Jay Bruce rf
28 Edwin Encarnacion 3b
23 Corey Patterson cf
9 Paul Bako c
33 Josh Fogg p / LP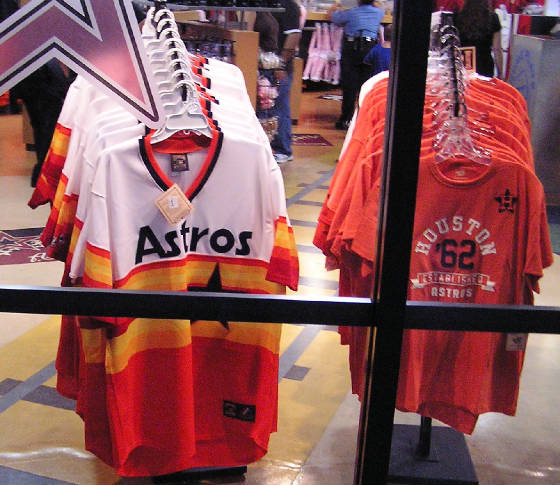 HOUSTON ASTROS
2 Darin Erstad lf
21 Ty Wigginton 3b
10 Miguel Tejada ss
17 Lance Berkman 1b
27 Geoff Blum 2b
9 Hunter Pence rf
14 Michael Bourn cf
11 Brad Ausmus c
44 Roy Oswalt p
47 Jose Valverde S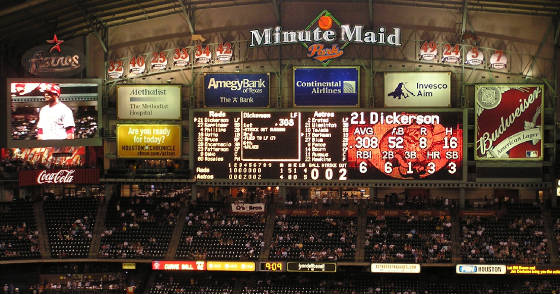 REDS 100 000 000 1 6 1
ASTROS 000 200 20x 4 9 0

TIME ::: 2:29
ATTENDANCE ::: 30,741
WEATHER :: Indoors 73

Outdoors - Hot and Raining
SEND ME AN E-MAIL

The Official web site of the Houston Astros
The Goode Company restaurants in Houston
The President George Bush Presidential Library and Museum
Houston weather from WEATHER.com
Site last Updated :::
© 2000-2012 UNCLE BOB'S BALLPARKS
I AM IN NO WAY AFFILIATED WITH ANY OF THE TEAMS ON THIS PAGE ... THIS
PAGE IS MEANT FOR INFORMATION PURPOSES ONLY.